Since 1886, Dexter Cider Mill is a Favorite Fall Destination Near Ann Arbor Michigan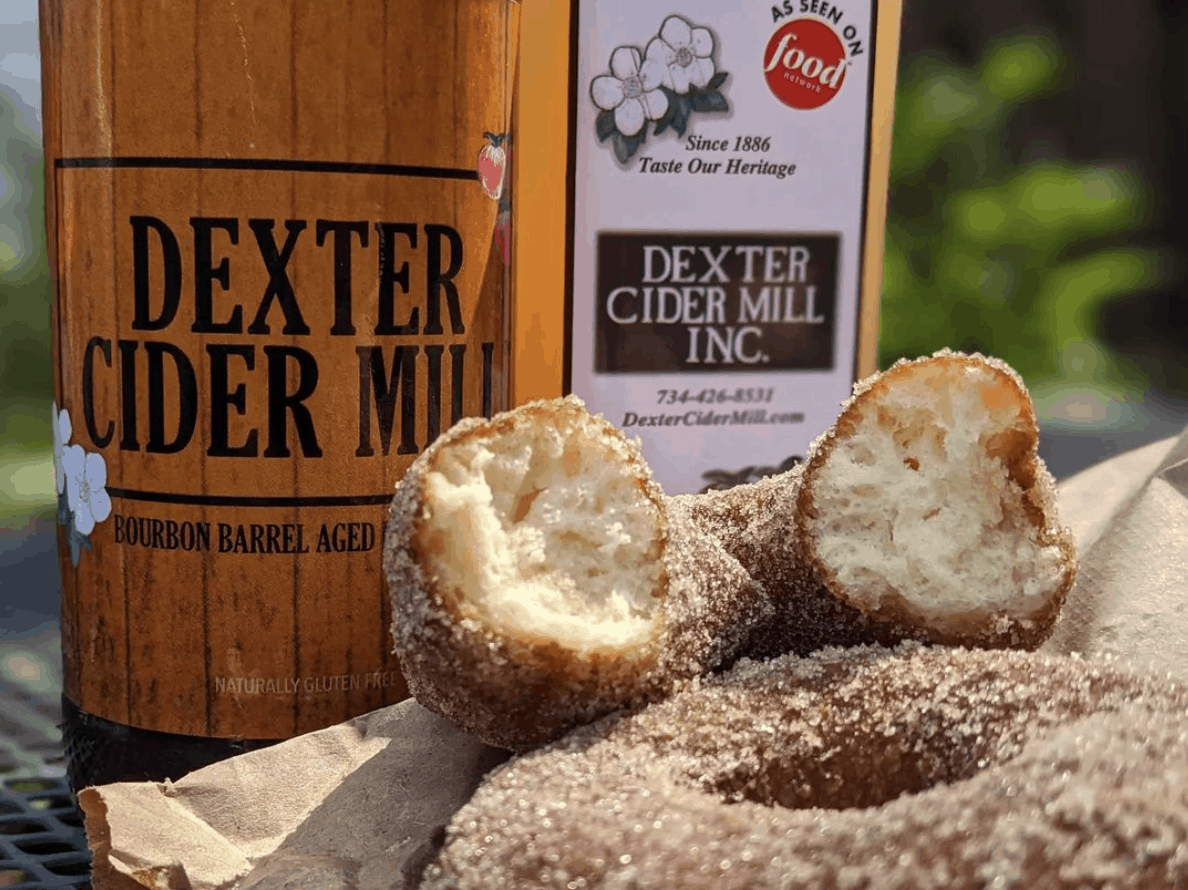 By James Andersen / Awesome Mitten
Every year, there are many signs that fall has arrived in Michigan: the weather is perfect, the leaves turn all shades of beautiful colors, and, of course, it means cider mills are open. There are dozens of Michigan cider mills that offer so many sights, sounds, and smells of fall.
If you're a fan of Michigan cider mills, Dexter Cider Mill is one you don't want to miss. The oldest cider mill in the Mitten State has been open for more than 100 years. If you're searching for the perfect Ann Arbor cider mill, Dexter's is one of many mills in the area.
Cider mill visits are one of the best things to do in Michigan in fall, and there's no doubt Dexter Cider Mill is one of the Mitten State's best.
Getting to Know Dexter Cider Mill
On the banks of the Huron River in south central Michigan is an institution that holds a special place in the hearts of generations of so many Michiganders.
Dexter Cider Mill opened in 1886 and the place is still steeped in tradition more than 100 years later. Today, it's still the oldest continuously operating cider mill in Michigan.
In the entirety of its operation, Dexter Cider Mill has only had three owners: the VanNatter family, which started the mill in 1886, the Wagner family, which bought the mill in 1900, and the Steinhauer family, which bought it in 1986.
Throughout that time, all three owners have worked hard to maintain the tradition and heritage of the mill. Techniques used to make apple cider and other goodies are still used today and pieces of old equipment can be found on display.
Taking in the Sights, Sounds, and Smells at Dexter Cider Mill
When you visit Dexter Cider Mill or any of Michigan's other cider mills for that matter, chances are good you're after cider and doughnuts.
There's nothing like getting freshly-baked doughnuts directly from a cider mill and pairing it with a glass of cold, tangy, delicious apple cider.
Try Some of Dexter's Famous Cider
Believe it or not, the mill makes its famous unpasteurized cider the same way today as the mill's original owners more than 135 years ago.
Using an oak rack press with locally grown and handpicked apples, the mill is able to blend these varieties together and press them into delicious cider. Since different varieties are consistently rotated, each fresh batch of cider press makes a unique blend.
Be sure to buy some fresh cider when you visit. Many visitors claim this is the best cider they've ever had. If you visit multiple times during the fall, chances are the cider will have a different flavor each time you go.
Sample Some Delicious Doughnuts
Of course, what pairs better with apple cider than doughnuts?
There's just something about cider mill doughnuts that makes them taste fantastic. At Dexter Cider Mill, you can chow down on traditional cider mill doughnuts in either plain or cinnamon sugar flavors.
With a fresh doughnut in one hand and a glass of cider in the other, you'll be in heaven.
Partake in Other Delicious Offerings
Cider and doughnuts are must-haves when you visit Dexter Cider Mill, but there are plenty of other delicious goodies you won't want to miss out on.
According to owner Nancy Steinhauer, "We sell a lot of cider and donuts, both cinnamon sugar and plain, but we have a lot of other good products made right here in the mill too. The apple nut bread is fantastic, especially warm right out of the oven, and we have delicious homemade apple pies as well."
If you like sweet treats, but sure to pick up a caramel apple, which is offered with and without peanut topping. You can also get homemade apple pies.
If you're looking for some cider with a kick, try Dexter's hard cider, which comes in several flavors.
If baked goods are more your thing, visit on the weekends, where apple fritters, apple cider glazed cinnamon rolls, apple strudel, and apple turnovers are available to buy.
If you want a new way to enjoy apple cider, visit during the weekend and try cold, refreshing apple cider slushies.
Pay a Visit to the Retail Store
As you make your way through the cider mill, make sure to take time and look at all the offerings in the retail store. Even if cider and doughnuts aren't your things, there's plenty to choose from to take a little bit of the mill with you.
All products are locally made and milled, so you know you're getting quality goods.
If you like apples, buy some delicious apple jelly or apple butter. You can also buy boiled cider, barbeque sauce, honey, maple syrup, mustard, pickled asparagus and so much more.
Visit Another Michigan Cider Mill
Whether you're a resident of south central Michigan or you're visiting the area in the fall, the Dexter mill is just one of several fantastic Michigan cider mills in the area.
Many of them are a hop, skip, and a jump away from Dexter Cider Mill. so you spend the day touring local mills and getting your fill of doughnuts, cider, and other goodies.
Experience a Football Tailgate
One of the best ways to experience a Michigan fall is to tailgate before a game.
If you're planning on going to the Dexter mill, you're only about 20 minutes from Michigan Stadium in Ann Arbor and you're only about 25 minutes from Eastern Michigan University.
Tailgating is a great way to soak up not just the beauty of a Michigan fall, but the fun vibes of college football. Grab a cold beer, you're favorite grilled food, and enjoy good company. If you're planning on going to a game, that'll make the experience that much better.
Go For a Scenic Drive in the Area
If you're going to be visiting Dexter Cider Mill, why not go for a scenic drive while you're at it?
Hop onto Huron River Drive in Ann Arbor right before Main Steet intersects with M-14. You can take a leisurely drive right into Dexter or travel a little further. The whole drive takes you along the Huron River and only lasts about 25 minutes.
There are plenty of spots to stop and take in the view or stop and have a picnic before continuing on your way. Dexter Cider Mill is actually at the end of the route, so it pays to drive the whole way.
Plan Your Visit to Dexter Cider Mill Today
For many Michiganders, visiting a cider mill is what truly makes them feel like fall has arrived. Dexter Cider Mill is the perfect place to feel the fall spirit. You can get delicious cider and doughnuts, and plenty of other goodies to really get in the fall mood.
It's the perfect day trip for a family and it's hard not to smile when you smell fresh warm doughnuts baking or taste the sweet tang of freshly pressed cider. So if you're longing for that fall feeling, hop in the car and make the journey to Dexter Cider Mill today!